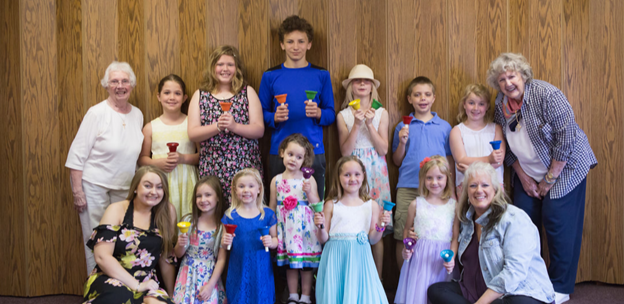 Our Children's Church program is intended to invite their attention and curiosity; engage them in the Bible, stories, conversation, music, and prayers; and guide them in fun faith building activities and crafts.
​WHO?  Children in Preschool through 5th grade.
WHAT?  Age appropriate Bible focused lessons, activities, crafts and games.  The third Sunday of each month is focused on musical activities (children perform in the sanctuary 3-4 times per year).
WHEN?  Every Sunday, except when Communion is served the 1st Sunday of each month.
WHERE?  Children enter Worship with their families and will be dismissed to report to their respective classrooms (Fellowship Hall and one Preschool Room).
Please note, children WILL NOT be released without an adult.
All volunteers are required to follow our Safe Sanctuaries child protection policy.
SAFE ENVIRONMENTS
We create safe environments parents can trust. All of our volunteers have gone through a thorough screening process with a background check and an interview, and all of our adult leaders have completed a special training program called Safe Sanctuaries. There will be at least two adults with your child at all times to take great care of them while you enjoy worship.
FUN EXPERIENCES
We create experiences that children will love, with age-appropriate games, songs, and activities designed just for them. Kids learn best when they're having a blast, and we work hard to make sure every minute in Children's Ministry is packed with kid-geared fun. We've also themed our Children's Ministry environments with cool sets and decor that capture kids' imaginations and set them up for an awesome day. You can also follow along at home with our new weekly Bible Blast.
ENGAGING BIBLICAL TEACHING
Every week in Children's Ministry we craft teaching, worship, and small group times to bring the Bible to life in a way kids will never forget. We want our kids to know Jesus and follow Him, and the best place to start is by helping them understand what the Bible has to say. We also staff our rooms with leaders who love Jesus and will help your kids discover what it means to live out God's Word every day.
NURSERY
Our Nursery is staffed to care for infants through 4 years old during the Worship service (Room #9).  All volunteers are required to follow our Safe Sanctuaries child protection policy.  Please view our [Nursery Guidelines] for additional information.